Go Indigo
Found 12 coupons to get discounts on Go Indigo
More Info About Go Indigo Coupons, Vouchers and Deals
Watch the Discounts Take Flight with Indigo Offers!
Planning a trip to see family, or maybe you're thinking about taking your family somewhere special for a vacation they'll remember for a lifetime? Regardless of how you sort out the details of your travel destination, it's a no-brainer that when it comes to flying, there is no better airline to fly with than GoIndigo. And now with our Indigo coupons, flying can be more affordable, leaving you extra funds for your adventures and money to buy souvenirs for everyone back home!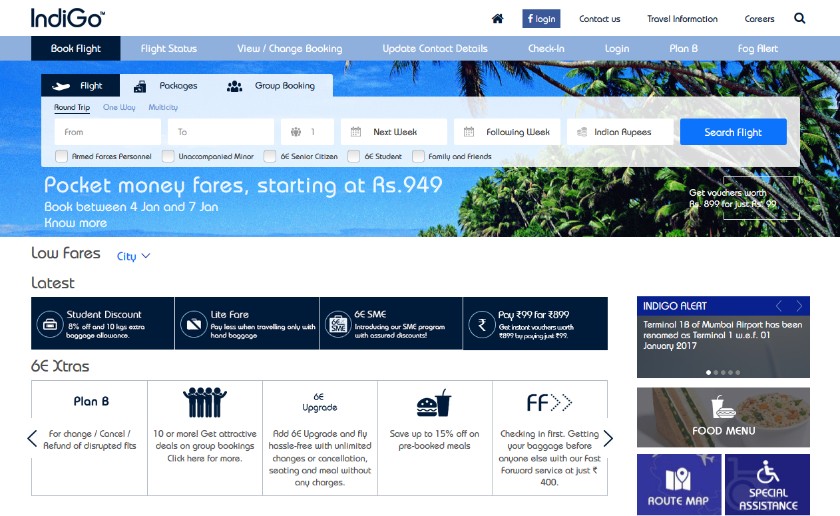 Why go with GoIndigo?
Flying with comfort, excellent customer service, and in a timely fashion are all possible when you fly with GoIndigo. As India's largest passenger airline service, with flights operating to 35 domestic and 5 international destinations, you can't pass up the reliability of an award-winning airline. If all those other passengers choose GoIndigo as their premier airline service, they must be on to something, right?
When you use Zifup to tend to all your airfare needs, you can also save immensely! Right now, we have excellent Indigo promo codes, including one that allows for up to 20% off while you shop. Once you see the coupon you want to apply, click on it, and you will be redirected to the GoIndigo site. From there, it's shopping as usual, and discounts will be applied at checkout. But hurry because these deals don't last forever, and you want to catch your discounts before they take flight!
GoIndigo, the Premier Airline Service of India
There's a reason (well, several) whey Indigo is the preferred passenger airline service of India. Although they were only conceived in 2006, in those ten years they have risen to prominence because of their reputation for timely flight delivery, low-cost airfare, and convenient services. Innovative ideas like the GoIndigo app for Android and their online booking and check-in are only some of the reasons Indigo continues to be the top-rated airline.
Indigo Discount Packages
The discount packages that GoIndigo offers are another reason the airline company stands out from and outranks its competitors. Packages like the Student Discount allow for 8% off and an extra baggage weight allowance of 10 kgs, so your college-bound children can fly home for the holiday breaks with all of their textbooks and clothes without costing you extra.
The 10 or more package is another great offer for families going on vacation because the family that flies together, stays together. With discounts for 10 or more people, the only hassle you'll have to deal with is counting heads and bags when you land at your vacation destination.
Get the 6E upgrade and give yourself the power of unlimited changes or cancellations, seating changes, and meals, all without any additional charges.
With the Indigo offers, these fantastic airfare opportunities are available, and at even more affordable prices!
Vacation and Save with Zifup
In addition to these amazing discounts on airfare, Zifup also has all the vouchers you need to save on your entire vacation, with coupons for hotels, spas, rental cars and more. Check out what else we have to offer today!
Recent Comments
Customer Comments