Yatra
Yatra Coupons are a "must use" on your vacations and business travels. Yatra Offers some of the best-prices on most hotel stays across India. Using different bank offers from Yatra, you can easily save a minimum of 20% on domestic flights and international trips.
More Info About Yatra Coupons, Vouchers and Deals
Store Summary:
Yatra.com is one of the famous Indian travel portals offering Airline Ticketing, Holiday Packages, Hotels, Buses Tickets and "Cruise Tickets". It was founded by Dhruv Shringi, Manish Amin and Sabina Chopra in August 2006. According to a study, It was the second-largest online travel website in India in 2012 April, with 30% share of the Indian Travel market for all online travel-related transactions. It announced Bollywood actor Salman Khan as it's brand ambassador since March 2012 and he's a shareholder too in the Travel company. It is also an Official Travel Partner of IPL Team Rajasthan Royals since April 2014.
Deals & Offers:
Yatra.com accepts Coupon Codes, discount codes, gift vouchers, promo codes, etc and keeps on sending the same via email, newsletters, and affiliate partners. We have all of them listed on this page. So u can leave the effort of following newsletters and visiting their website daily. Simply log in to Zifup.com to see the list of all 100% authentic, active and official offers. Below we have listed the deals / discounts that the travel company has carried on in past:
Yatra Travel Fest.
25% Off on Domestic Holidays.
India Freedom Offer.
Mega Diwali Dhamaka and so on...
Also keeping in sync with the festivities and season of the year, they keep on launching, Offers, Coupon / Promotional Codes, and deals.
For exclusive coupons on hotels visit https://zifup.com/store/makemytrip/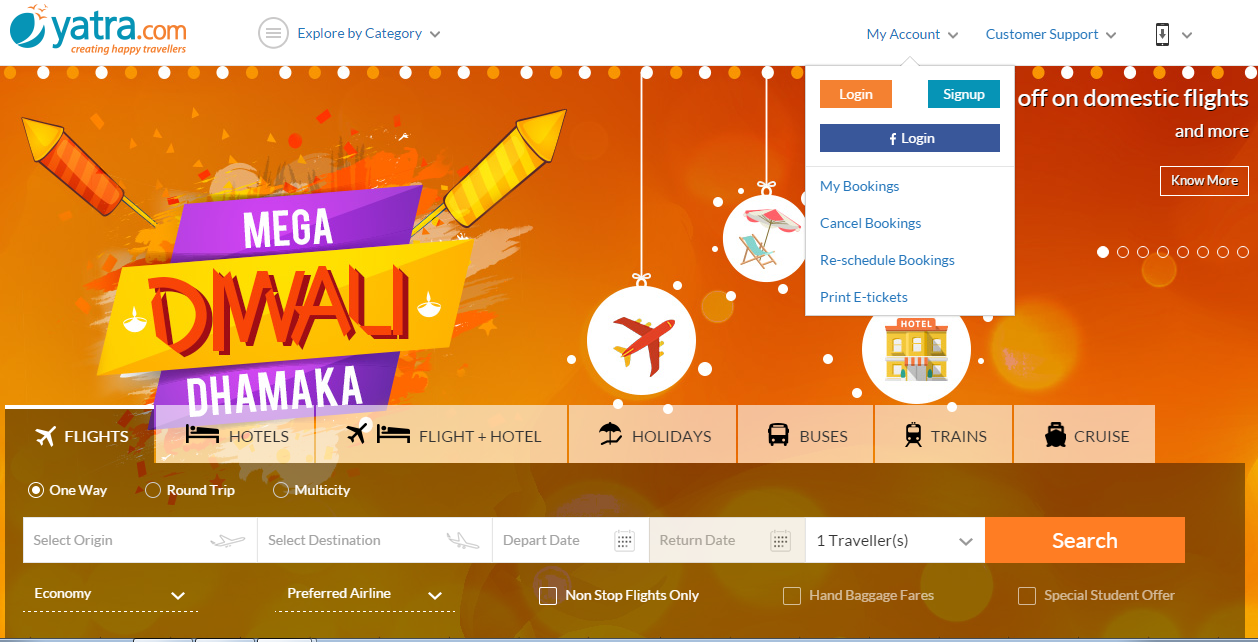 eCash/Yatra Wallet:
Yatra offers a unique reward point wallet known as eCash. Every time you do a transaction with them you get a few points in the eCash kitty. Every eCash point is equivalent of a "Rupee (Rs.1)". For old customers who had Yatra Miles in their account, those miles have been converted to eCash Points. There are some cool features of this eCash which we have listed below:
When you cancel your booking and transfer your refund to eCash, you Save on cancellation fees.
When you cancel a booking. You can get "Instant Refund" to your eCash account in case you cannot wait to get a refund in your monetary account and use those eCash points the very next moment to book another ticket.
eCash Points that you earn due to a cancellation of Booking "Never Expire". However, other points earned as discount or cash-backs do have a validity of 90 Days.
If you do not have a credit/debit card or net banking access while making a payment, You can use your eCash Points to book a ticket.
Yatra Offers for Bank Customers:
At the time of writing this article, we noted that the on the top right-hand side of Yatra, A tab named as "VISA" as listed doling out discounts for customers who have a VISA pay enabled card. Though when we pointed on it, It gave us a notification "Select Visa cardholders can check their eligibility and unlock exclusive deals (Valid on Flights and Hotels only) ". Now since most of the cards in the world are VISA pay enabled ;), It is very likely when you do a transaction on their website, you may get a discount. Also, we have a lot of bank-specific coupon codes listed on our site. Same goes for the deals and discounts.
Like every other E-Commerce store and Online Travel Portal, Yatra to have tied with every major bank time and again to give out offers to its customers. They have launched a "Holiday-cum-shopping card" with State Bank of India (SBI) to offers its customer special discounts and offers. This has proved quite a deal as SBI is India's largest Bank and a Government Bank as well. Hence the reach of this bank is in every possible nook and corner of the country directly giving the travel portal an access to the SBI customer base bringing in the Tour's and Travel products to the remotest of the customer.
[banner-]
Product Categories:
Yatra.com serves the following travel product categories as listed on their website, Flights, Hotels, Holidays, Buses, Trains, Cruise. Flights cover both International and Domestic flights. Same goes with Hotels and Holiday packages.
"Cruise" booking is something unique with this website and facilitated by very less India travel portals. We were quite happy to see this as a separate category altogether directly listed on the front page of the website. They also provides VISA assistance to customers.
Holiday Lounges:
Yatra has physical brick n mortar lounges apart from the online portal as well. These Stores most of the time carry the same deals and discounts as the online portal do; or perhaps something better. These stores help you in getting your holiday packages done with great customer experience and comfort and are especially great for the people who do not prefer Internet Bookings. Below we have listed the Cities where you can find these stores.
Ahmedabad
Gurgaon
Nagpur
Bengaluru
Hyderabad
New Delhi
Chandigarh
Kolkata
Pune
Chennai
Ludhiana
Surat
Cochin
Mumbai
These Stores remain open from 10:00 am to 7:00 pm, Monday to Saturday
Hold For Free:
Hold for free is very exciting option that allows you to reserve a seat for you without any immediate payment!
Yes, you read it right. Reserve a seat without any payment and make a payment later on or before a specified date and time that will be communicated to you. Hold For Free option is offered on all airlines except Low-cost carriers e.g. Spice Jet, Indigo, Air Asia, Fly Dubai, Air Arabia. Hold For Free option is based on the airline that you choose and the number of days prior to the departure date of your chosen flights. For Exact information on this check out hold for a free page on their website.
Payments Method Accepted:
Payments from all major banks of India as in Kotak, ICIC, HDFC,Axis, SBI, IDBI, CITI etc are accepted. They accept Payment via credit cards, direct bank debits, and ITZ Cash card. EMI options are available too on Citibank, ICICI, and HDFC credit cards.
Cancellation & Rescheduling Policy:
Speaking of cancellations and rescheduling policy, Charges are quite varying, depending on the Airline, Hotel, Holiday package, Bus or Cruise Operator that you have booked for. The amount that will be refunded on cancellation or rescheduling of a booking is pre-informed during the process of booking. For Hotels Yatra does not charge any cancellation fees however the hotel itself may or may not charge a fee depending on their terms and condition. Flight bookings that are cancelled online visiting "My Bookings" section attract a cancellation charge of Rs.300 plus the cancellation charges by Airline operator. This is valid in case the cancellation or rescheduling is 24 hours before the departure of the flight. If you do a cancellation by calling on customer care number then the charges are Rs.500+ Flight cancellation charges by Airline Operator. 9 seats can be booked on a single instance for Flights. For booking more than 9 seats you need to re-initiate a new booking. In the case of Trains, a maximum of 6 passenger seats can be booked on a single ticket. After that, you need to book another ticket.
Below is the tabulated format of helplines for you:
Conclusion:
So, At the end going through the Yatra website and scavenging through all the possible sections especially "CRUISE booking", deals and discounts, customer FAQ's etc, We can easily conclude that it is indeed a very simple to use website for all your Holiday Package needs, Flight bookings, Bus, and Train Bookings. All of this at competitive reasonable pricing with Best Price Guarantee.
Recent Comments
Customer Comments