Udemy
Found 11 coupons to get discounts on Udemy
More Info About Udemy Coupons, Vouchers and Deals
Udemy is one of the biggest and most renowned online courses platforms. Founded in 2010, the company now unites over 40 million students worldwide, who can take advantage of 183,000 Udemy online courses taught by 60,000 instructors in 75 different languages.
The variety of online classes available at Udemy is jaw-dropping. Among the courses offered, you can find ones that relate to:
Mobile Apps
Game Development
Web Development
Entrepreneurship
Finance
IT Certification
Data Science & Analytics
Personal Transformation
Digital Marketing
Graphic Design
Coding Courses
And more!
Within each category, Udemy has several classes for all experience levels that help build the foundations for these new skills. For example, the Graphic Design category consists of top courses for Photoshop, Digital Painting, Logo Design, and Adobe Illustrator.
Udemy's motto is 'Learn more for less,' which speaks to its mission to make online education affordable. Web development, finance, and graphic design are among the course listings in their massive inventory of available classes. Students can learn the ins and outs of the digital marketplace from experienced experts in their field.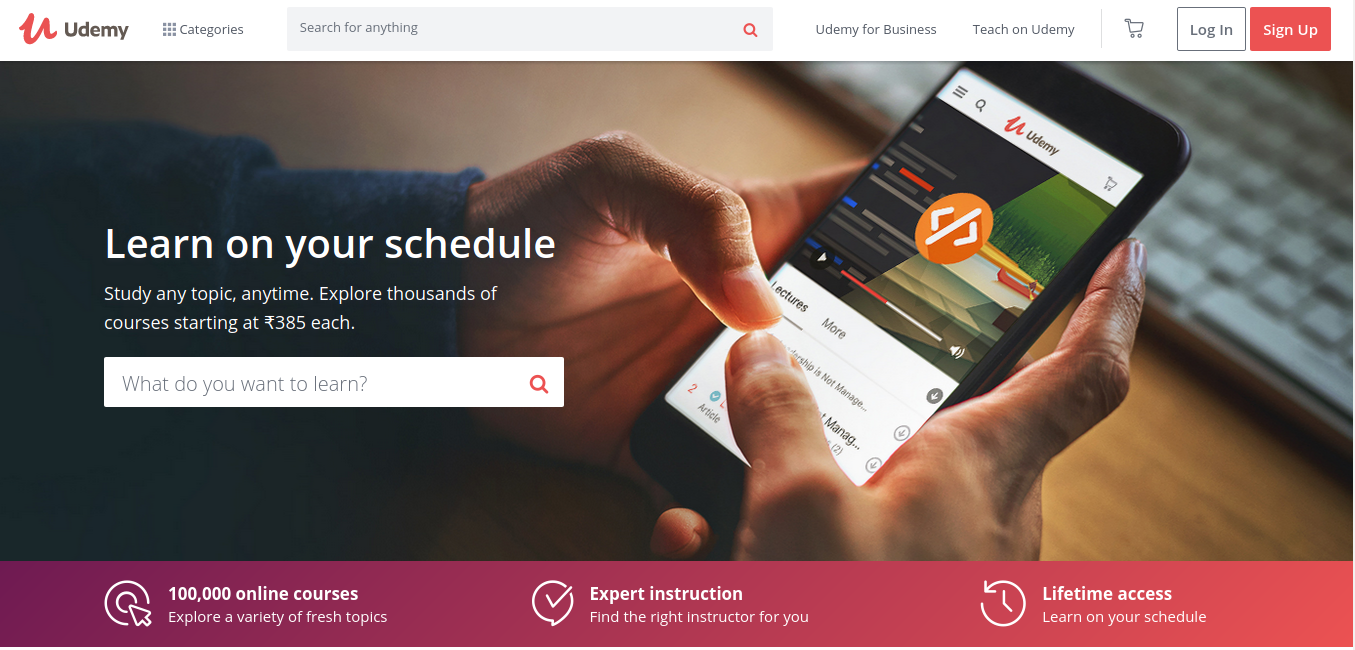 Udemy Pricing
Although there are multiple free Udemy courses for you to try, the majority of top and more advanced courses are paid. Depending on the course, Udemy users can expect to pay even over $100 for access. Usually, however, you can enroll in paid courses from $13.99 to $20. Moreover, considering that there are numerous Udemy promotions throughout the year, you can purchase their online courses at some great prices.
There are also, of course, Udemy online coupons you can use to save even more money. You can find them here at Zifup. We update this page daily, so be sure to visit it as often as possible to get the latest Udemy coupons.
Why Use Udemy Coupons?
Udemy classes have a value of approximately $199.99 per class. This expense includes 20-25 hours of video, articles, and downloadable resources, along with a certificate of completion at the end of the course. Udemy promo codes allow users to access these high-demand classes at a drastically discounted price.
Coupon users:
Save money
Learn affordably
Build the skills to advance their career
Udemy students go on to pursue their dreams and find success in their prospective fields. With promotional coupons, anyone can take a course easily on their timeline. You get access to all the material so that you can learn the way you like to learn. Are you juggling jobs and kids with little time to spare? Using promo codes for Udemy online courses means you can learn when you get the chance, without worrying about wasting hundreds of dollars on a course for which you won't have time.
And considering the huge savings every single Udemy promo code offers, it would be foolish not to take advantage of such a possibility. Register your Udemy account today, find the best new coupon codes, save money on your desired Udemy course, and learn new skills to boost your professional career!
How to Use a Udemy Coupon Code
Using Udemy coupons is incredibly straightforward. With just a few clicks, you'll be able to purchase their online courses at discounted prices. To use your Udemy coupon code, you need to follow a few simple steps:
Visit zifup.com to find the newest Udemy promotion codes. Once you pick the code that you find most appealing, copy it to your clipboard.
Go to the Udemy website to search for online courses that interest you.
Add the course to the cart by clicking on the 'Add to cart' button.
When done shopping, head to the cart by clicking on the shopping cart icon in the top right corner.
On the cart page, you will find the window for entering your promo code (just below 'checkout'). Paste your copied Udemy code there, click 'Apply,' and click on 'Checkout' to finalize your purchase.
Proceed with the checkout by following the displayed instructions. Note that if you don't have a Udemy account, you'll need to create one to finalize the deal.
Udemy Money Saving Tips
In general, Udemy coupon codes are the best way for you to save money on Udemy online courses. However, there are other multiple ways for you to get a discount on your desired course.
Firstly, make sure to check the Udemy page regularly, or better, sign up for their newsletter, to stay up to date with all the ongoing promotions. Like other online learning platforms, Udemy offers seasonal promotions on popular occasions like Christmas, Black Friday, Independence Day, Easter, etc.
By combining discount codes with other promotions, you'll be able to save up to 80% on specific courses! Be smart, and take advantage of all the possibilities Udemy gives you. Enrolling in their cutting-edge courses doesn't have to be expensive if you play your cards right.
Save On Udemy Online Courses With Zifup
If you are a savvy consumer, Zifup is your go-to site when looking for the newest coupon codes. We update our Udemy coupons daily to ensure our users gain access to all the top Udemy courses at discounted prices. On this page, you'll find all the popular Udemy promo codes, so make sure you visit Zifup regularly for all the money-saving possibilities.
Get your in-depth education today by using Zifup.com to save on registration. Besides the Udemy offers, you can unlock hundreds of other ways to save on Zifup.com. We provide our users with multiple coupon codes, as well as all the information regarding saving money on online purchases. Register your Zifup account today, and let us help you save even up to ₹10,000 a year!
Is Becoming a Udemy User Worth It?
Long story short, it is. Udemy is a leading online learning platform, providing its users with thousands of learning possibilities. At Udemy, you'll find a vast collection of online classes, including top leadership courses, web development courses, programming skills courses, personal development classes, or online marketing training. Whether you want to learn a new skill from scratch or improve your knowledge on a specific topic, Udemy has got you covered.
On top of that, thanks to all the Udemy coupons and discount possibilities available, you can save tons of money on many of their top courses. And if you find your discounted course isn't for you, you can always request a refund on it. The only requirement is that you do it within 30 days of your purchase.
Another advantage coming with Udemy is their mobile app. It connects directly to your account, so you can access all your courses wherever and whenever you want. What's more, the Udemy app is really practical and well-optimized. Oh, and yes, you can use Udemy coupons in it as well.
Visit Udemy today, set up an account, and learn a skill you've always dreamt of having through one of their cutting-edge online courses. And don't forget to use coupons found at Zifup. They'll come in handy sooner rather than later. Trust us on this one!
Udemy Coupon Codes FAQs
Below, some of the most frequently asked questions regarding Udemy and using their coupons:
Where to find discounts on Udemy courses?
You can find all the latest Udemy coupon codes at Zifup. Make sure to check this page regularly, though, as we update it daily. Using our site, you'll be able to gain access to Udemy discounts conveniently, as all coupons are in one place. Other than that, you can always visit the Udemy official website to see if they have anything to offer. It's also possible to sign up for their newsletter and get regular email notifications on the latest deals and new courses that might interest you.
Are there any free courses at Udemy?
Of course. Udemy has tons of free online courses you can take advantage of if you don't wish to spend money on learning new skills. Keep in mind, however, that their free classes are often much less complex than paid ones. That being said, they can be a good starting point when learning basic skills. For more advanced learning aid, though, it's best to enroll in paid courses starting from as low as $10 a course. What's more, using Udemy coupon codes, you will be able to access their top courses at absurdly low prices.
Why doesn't my Udemy coupon code work?
There are multiple reasons why your Udemy coupon code might not work. Firstly, there might be an expiration date. In this case, there's nothing you can do as the coupon you want to use has already expired. Secondly, there can be specific requirements you must meet to redeem your coupon. In this case, it's best to read the 'Terms & Conditions' section to see how you can become eligible for a discount.
And last but not least, be sure you copy and paste your code correctly. It might sound obvious, but we're sure you've had your fair share of pasting wrong links, passwords, or codes in your life. And if none of the reasons above seem to be the problem, contact the Udemy customer service.
How much can I save using Udemy coupon codes?
Well, it depends on the promo code you use. For instance, you can find coupons that will grant you even a staggering 92% discount on all courses. However, in most cases, you can expect discounts ranging from 10% to 30%. There are also codes that grant you access to courses with a given price adjustment - for example, the Photography Masterclass Course for $15.99 (just an example).
What skills can I learn using Udemy?
The easier question to answer would be what skills can't you learn using Udemy. With 180,000 online courses available, it's fair to say that the Udemy offers won't disappoint anyone. They cover practically every topic, starting at basic programming skills courses and ending at advanced guitar playing lessons. Whether you want to learn a new hobby or expand your knowledge of a specific topic (like leadership skills) to boost your professional career, you can rest assured you'll find just the right course at Udemy.
Are there other similar platforms to Udemy?
If, for any reason, you can't find any course that interests you at Udemy, you can consider taking your money elsewhere. Besides Udemy, you can also study online at platforms like Coursera, Skillshare, or Pluralsight. All come with a very similar offer to Udemy, but there are some key differences that may make any of the platforms above a better alternative to Udemy if you don't find it as appealing as 40 million active users.
Do I need to register an account to learn at Udemy?
Yes, you do. Only Udemy users are eligible to use the platform, but it doesn't mean it's a bad thing. First of all, new customers are often offered discounts on various courses. The new user promotion period may vary depending on the class and time of year, so monitor the situation regularly if you still don't have an account. Secondly, once you register an account and buy access to a course, Udemy grants you lifetime access to it, meaning that you can get back to it anytime, even if you complete it.
How can I pay for my Udemy access?
Udemy supports all the popular and widely used payment methods. Of course, many depend on the region you live in or your device, but in general, you should be able to pay for the Udemy many courses using traditional bank transfers, international credit and debit cards (available for American Express, MasterCard, and Visa cardholders), and PayPal. Udemy also offers customers Udemy Credits, which you can apply to your payment to get a discount.
Recent Comments
Customer Comments