Dominos
Found 9 coupons to get discounts on Dominos
More Info About Dominos Coupons, Vouchers and Deals
Store Summary:
Domino's!!! As soon as you read or hear this word...It starts raining Pizza in our heads. Cheesy, Juicy, thin crust, cheese burst, toppings, jalapeno...When we eat or even just see a pizza, our taste buds go on a high and we start floating in tasteland ;). Pizza has become a household favourite in India. Currently, they own 1000 plus franchise outlets in India covering more than 261 cities in collaboration with Indian Partner Jubilant Life Sciences based in Noida Uttar Pradesh. It is a Multinational Pizza Making Company. Its foundation was laid down by Tom Monaghan and his brother, James in the United States of America. They purchased a small pizza store named as Dominick's in Ypsilanti, Michigan, near Eastern Michigan University in the year 1960. In their initial days, Tom and James used a Volkswagon Beetle for their Pizza Deliveries. By then they had 3 Pizza stores operational. Initially, Tom wanted to use the name Domnick as a brand for all the three stores. But the original owner of the brand refused to allow for the same. One day an Employee suggested the name as Domino's and Tom liked it very much immediately renaming the 3 stores to the same. In 1965, Tom registered the name for their pizza business
Domino's logo had 3 dots at the start, representing the three stores in 1965. Tom had the idea of adding a new dot every time a new store was opened, but given the rate of success and expansion, this never really happened and the logo stayed as it is. First Franchisee store was launched in the year 1967 and they reached 200 stores by the year 1978. Now that's an astounding rate of expansion within 18 years of starting the first store. They follow a master franchise policy. Which means for every country there is only one company entitled to open stores all over the country. However, 3 Master partners have obtained a multinational license to open stores in other nations as well. Jubilant Foodworks is in the same category as well. In India, Domino's is operated in collaboration with Jubilant Foodworks. Jubilant holds the master franchise for India, Bangladesh, Nepal, and Sri Lanka. Surprisingly India is the biggest international market outside the USA. Jubilant Foodworks has 1039 Pizza restaurants across 240 cities as of May 28, 2016. Jubilant Foodworks opened its first store in New Delhi in 1996. The company was established in the year 1995 and started operating in 1996. Internet operations were started in the year 2011 accepting Online Pizza orders. Online orders account for approximately 18-20% of total sales as of December 2013.
Offers :
Domino's is full of taste, offers, deals and fun time. Its tagline is "Ye hai Rishton Ka time". They accept coupon codes and promotional vouchers. You will always get the latest updated coupon codes and voucher codes on our website Zifup.com.
Below we have listed some of the mega offers given off by the online pizza store in the past,
Monday Magic
Yaari Dosti Wednesday
Friday Freak Out.
Special offers
Buy 1 Get 1 Free
20% Off for HDFC customers.
Extra Cheesy weekend.....… and so on..
​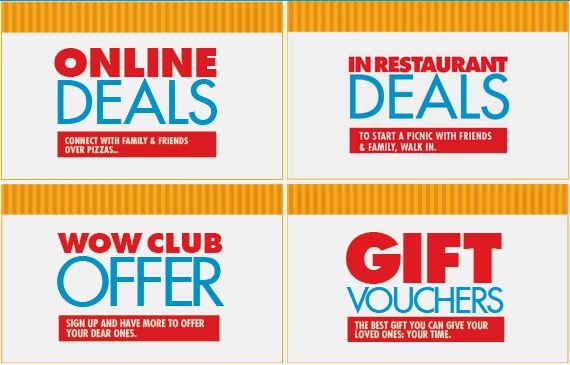 We have seen these offers repeating, again and again, In fact, some of these are regular ones. Monday Magic gave 20% off on your orders if you happened to visit their website on Monday. Plus you earned a discount coupon offering a 30% discount on your next order during the week. That's pretty good savings.
Yaari Dosti Wednesday offering was a 25% discount on order worth Rs.350 and above. That's again a cool discount offer. So if the total order was Rs.1000 you would have saved Rs.250. The equivalent of a small pizza order.
Let's talk about Friday Freakout...Probably one of the coolest offers from Domino's. Buy one pizza and get a whopping 50% off on your next pizza. So Friday's, start off to your colourful weekend was made deliciously colourful.
Buy 1 get 1 Pizza free has been the most successful offers of all the time. Who would not one like to have a Pizza free on his/her purchase? More the merrier as they say. In fact, this was an awesome offer for birthday parties or casual treat for friends and families to whom you have been long delaying. After all, it's a 100% saving. Easy on the pocket and full of fun and taste.
Unique Feature: Book your Birthday Party
Yes, You can book a surprise birthday party for your friends, family members and of course, Yourself ;). No need for booking costly hotels or party places. Domino's stores already have a great ambience, Good music and ever hospitable customer service. You can do the booking by visiting the following link, http://www.dominos.co.in/bday-party. You will have to fill in the details so that an official representative will contact you for same. Alternatively, you can also visit the nearest pizza store and discuss the same. They will help you arrange and give a superb discount on the party booking as well. Plus the party arrangement will be cool.
Product Categories:
Domino's serves a wide variety of Pizza both of International taste and Desi flavour style a well. Indian pizza flavours, for example, paneer, pizza, chicken tikka masala pizza, and kheema-do-pyaza pizza have been sold across various stores in different countries. Below is the category menu currently they serve and keep on adding new items constantly.
Veg Pizzas >>Margherita, Double Cheese Margherita Country Special Farm House Spicy, Triple Tango Etc.
Non-Veg Pizzas >> Cheese & Barbeque Chicken, Chicken Salami, Barbeque Chicken, Spicy Chicken Chicken Fiesta Etc.
Side Orders >> Garlic Breadsticks, Stuffed Garlic Bread, Veg Pasta Italiano White, Non-Veg Pasta Italiano Etc.
Beverages >> Diet Coke, Coke, Fanta, Sprite, Coke Zero and More
Choice Of Crusts >> Cheese Burst, Classic Hand-Tossed, Wheat Thin Crust, Double Cheese Crunch, Fresh Pan Pizza
Choice Of Toppings >>Veg Toppings, Extra Cheese, Non-Veg Toppings.
Pizza Mania >> Four Single Topping Veg Pizzas, Four Double Topping Veg Pizzas Etc.
Combosa >> Four Single Topping Veg Pizzas, Four Double Topping Veg Pizzas, Four Single Topping Non-Veg Pizzas Etc.
Payments Method Accepted :
All types of online payment methods are accepted. Every card from every bank is accepted. For online payments net-banking, debit card, the credit card of all the major banks is accepted. For brick and mortar stores, every debit/credit card and cash are accepted as payment.
Customer Service/ Order Helpline: You can order your Pizza on helpline (Prefix City Code)68886888 as well. If you have any feedback in regards to the quality or any other concern, you can inform about the same on this helpline as well.
Product Delivery Times:
Domino's promises a 30 minutes delivery for certain areas subject to road, traffic and few other conditions. You can also order online on the website and choose to pick up the delivery from a store near you. This is very good for customer's who are constantly on the move and want to grab a snack on the move. If it all there is a delay in your order, it will be informed at the time of ordering and the instant a delay occurs due to any external or internal factors.
Conclusion :
30 Minute super fast delivery(wherever possible), prompt and helpful customer service reps. A variety of tasty and drooling pizzas with a personal touch of happiness and surprising pizza offers every other day, Dominos is indeed one of the topmost Pizzerias in India.
Recent Comments
Customer Comments