airindia
Found 1 coupon to get discounts on airindia
More Info About airindia Coupons, Vouchers and Deals
The Sky is the Limit with Air India Promotional Codes!
As one of the leading flag carrier airlines in India and a Star Alliance member, and serving over 85 domestic and international locations, Air India gets travelers of all types where they need to go with comfort and reliability. From large families traveling on a budget to business executives and world travelers, Air India has all the essentials of flying with comfort and class covered. Now, with Zifup, flyers from all walks and runways of life can get access to Air India promotional codes to save on tickets, membership exclusives and more!
The True Airline of India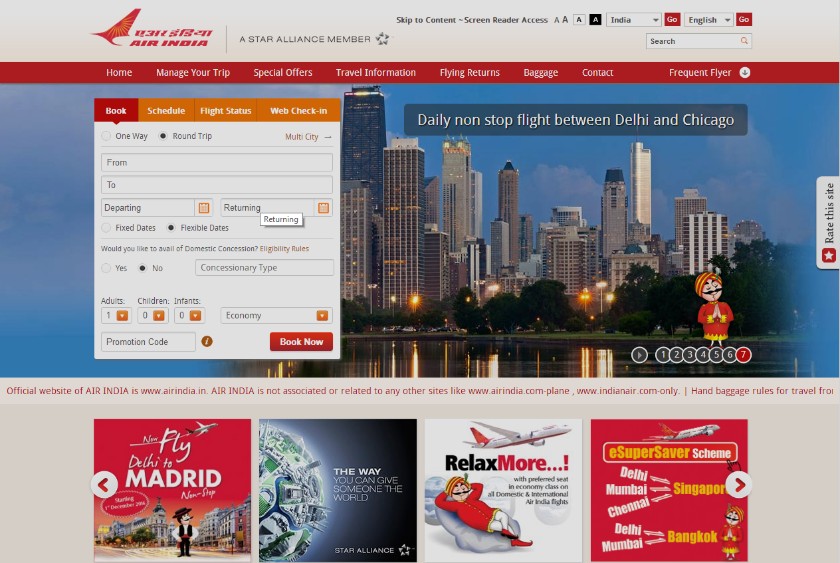 Air India is the true airline of India, from its comforting and familiar Maharajah figure to the logo with the red-colored flying swan-adorned with an orange 'Konark Chakra.' Founded in 1932 by J.R.D. Tata, an Indian aviator and business tycoon, the airline began its humble origins when Tata flew a Puss Moth airplane full of airmail from Karachi to Bombay.
Since the early days, Air India has grown massively. The flag carrier airline now operates to 86 destinations, including 49 domestic and 37 international locations, in 26 countries and 4 continents. It has a market share of 15.4%, making it the third largest carrier in all of India. In addition, Air India now proudly operates the world's longest non-stop, regular scheduled commercial flight that takes passengers straight from Delhi to San Francisco.
Hop on to These Benefits before You Hop onto That Plane!
Benefits for Air India guests are numerous. In addition to standard options like Economy, Executive and First Class, Air India has an array of offers that they give back to their loyal flyers. Loyal customers can use their miles to pay for additional trips or save on the cost of a ticket, and they can join the premium Maharajah, Golden Edge or Silver Edge clubs.
As a Star Alliance member, Air India can provide all the amenities of Star Alliance for their loyal flyers. The Star Alliance allows Air India to be part of a major, international network that includes other major carrier airlines like Swiss Airlines, United, Lufthansa, Asiana, Ana, Air China, Air-Canada and much more.
On top of these many benefits, Air India also offers modern options to make flying easier and more convenient, with features such as preferred seat booking and online check-in.
These excellent opportunities are always available for Air India, but now, with access to Air India promotional codes, Zifup users can find additional discounts.
Zifup, from the Earth to the Sky, and Everything in Between
The discounts that Zifup retrieves for you are not just limited to Air India promotional codes. We are dedicated to finding vouchers to cover every aspect of your life, whether that entails discounts to bring flying and saving within reach, or whether that means finding the latest in coupons for items for the whole family. Check out our other offers today and browse through men's and women's apparel, kids fashion, home and living, technology, and even new and used cars!
Recent Comments
Customer Comments