mylescars
Found 1 coupon to get discounts on mylescars
More Info About mylescars Coupons, Vouchers and Deals
How to save on rentals at Myles Cars
Are you planning to travel soon? Are you worried about the cost of finding transportation in a foreign city? Instead of having other people drive you around, take control by renting a car for yourself to drive. Myles Cars offers a variety of cars for you to choose from so you can be in control of your own transportation. You don't need to worry about late drivers and miscommunications, or taxis trying to swindle you out of your money by taking the long way to where you need to go.
Using Myles Cars to rent a car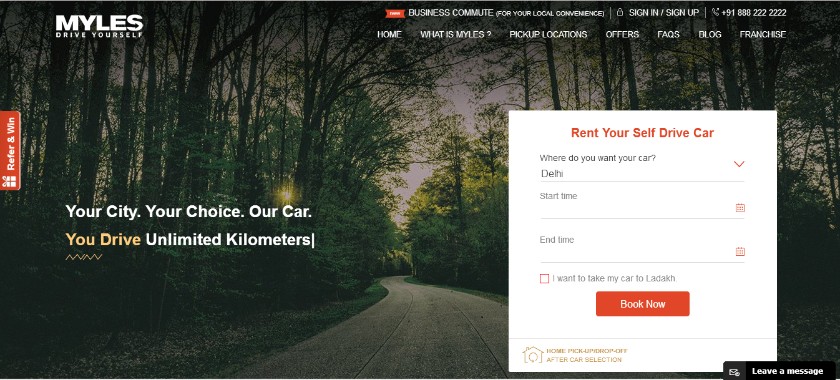 Myles Cars is a company that offers car rentals for you to drive while you are traveling. They are the first self-drive car service in India. They offer a wide variety of car models to choose from, so you can find the perfect one for you. They offer
Compact-SUVs
Electric Vehicles
Hatch Backs
Luxury Models
MUVs
Sedans
And SUVs
Myles is available to users in 21 cities around India and they also have over 205 locations available for you to pick up or drop off your rental vehicle. They provide a convenient way to rent a car while traveling around India. It is easy to book a car because you can do it right online. Just simply submit the location to pick up, and the dates you want to rent the car for.
Using coupons to save on your rental.
Instead of spending hundreds or even thousands of dollars on hiring transportation around town, renting a car is much more budget friendly. On top of that, you can also use coupons to receive an even bigger discount on your transportation costs. Saving money on this cost means you can a lot a bigger budget somewhere else on your trip.
Zifup offers to save on Myles car rentals
Our company, Zifup, has several offers for you to take advantage of when renting a car from Myles. You can save up to 20% off or ₹500 off the cost of your rental. It is simple to use our coupons, as all you need to do is press "click to use this coupon" and it will automatically be applied on the website and you can book your vehicle rental at a discounted cost. We even make sure to highlight important information like the requirements to use the coupon and when it expires to ensure you will have a hassle-free experience.
Don't stress about finding transportation on your trip to India. You can use our promo codes to reap the benefits of saving money on your car rental from Myles. You can feel safe with a vehicle in your own hands, and with our voucher, we can save you money to use elsewhere on your trip. Who wouldn't want extra money to spend on food or souvenirs? After all, it is not cheap to take a vacation, and it can help immensely to save money wherever you can.
Recent Comments
Customer Comments