myflowertree
Found 1 coupon to get discounts on myflowertree
More Info About myflowertree Coupons, Vouchers and Deals
MyFlowerTree Coupons
At Zifup, we offer outstanding vouchers, discounts, coupons, and deals on MyFlowerTree products, sometimes even offering free gifts with your purchase!

MyFlowerTree is a one stop shop for any special occasion flowers, cakes, and gifts—and their same day delivery ensures that your items will arrive on time at your doorstep. Known especially for their fresh and vibrant flowers, and their beautiful and delicious cakes, MyFlowerTree has become such a popular online delivery gift shops in India that they now even offer international services.
With our special deals and coupons you can maximize your savings in order to surprise your loved ones with thoughtful gifts, not just on special occasions, but year round.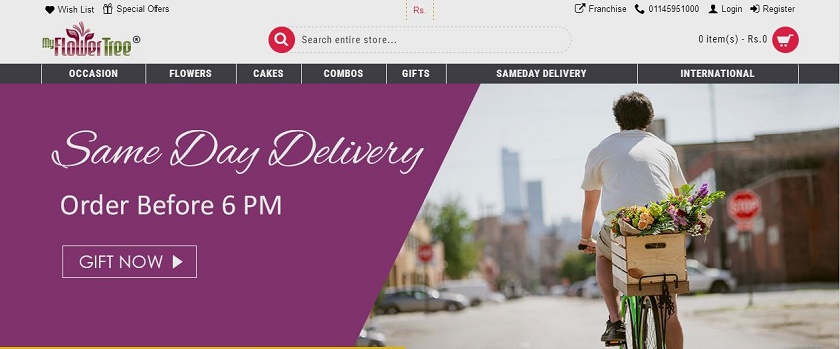 Regardless of whether you are looking for flowers for a special occasion or just to let someone know you appreciate them, MyFlowerTree's flower shop offers a variety of expertly curated bouquets, basket arrangements, and personalized designs that are sure to make your recipient smile. Some of their most popular flower bouquets include:
Roses
Carnations
Orchids
Lilies
Gerberas
Mixed flowers
Golden Roses and more!
They also offer heart shaped floral arrangements for those looking for a romantic gift, and beautiful glass vases that can serve as a stunning centerpiece for any home.
In addition to being widely known for their flower shop, MyFlowerTree is also known for their delicious cakes which are designed for a variety of special occasions including birthdays, anniversaries, baby showers, and other events.
Some of their most popular cake categories include:
Birthday cakes
Heart shaped cakes
Exotic cakes
Tiered cakes
Personalised cakes
Photo cakes
5-star cakes
Fruitcakes and more!
In addition, they also offer cakes that cater to various dietary needs, such as their eggless cakes and sugar-free cakes.
Just like their flower delivery service, MyFlowerTree offers same day delivery on select cake products so that you don't have to worry whether your gift will arrive on time.
Beyond flowers and cakes, MyFlowerTree also sells various thoughtful gifts, from personalized items such as photo mugs and cushions to soft teddy bears, and even golden roses. For those looking to really wow their loved ones, MyFlowerTree also offers combination packages, such as flowers with chocolates, flowers with a teddy bear, assorted combos and more. These combinations are especially perfect as romantic gifts that can be used to surprise a special person in your life by having the gift delivered to their home or office.
Our Outstanding Coupons
Using our MyFlowerTree coupons makes gifting as easy and affordable as possible so that you can get more value for your money. At Zifup we regularly update our vouchers in order to bring you the best deals year round. In addition to our money-saving discounts and special deals, we sometimes even offer free gifts along with your purchase, like a free teddy bear, free chocolates, or even a free bouquet!
Once you reap the saving potential of our free and easy to use coupons, you will never go back to paying retail prices again. With our coupons, you can experience the rewarding feeling of surprising a loved one with a thoughtful gift over and over again for the same price that you would spend if you paid the full value for your items on one occasion.
In order to redeem your discounts, simply click the "use this coupon" button today!
Recent Comments
Customer Comments