mirraw
Found 18 coupons to get discounts on mirraw
More Info About mirraw Coupons, Vouchers and Deals
Mirraw's Handpicked Ethnic Apparel
Mirraw is a modern clothing store that aspires to share an appreciation for ethnic clothing with shoppers in India and around the world. Each item of clothing that Mirraw offers is handpicked because of its beautiful design and craftsman quality attention to detail. The store is based out of Mumbai, but its website allows shoppers to browse through their collections from the comfort of their own homes.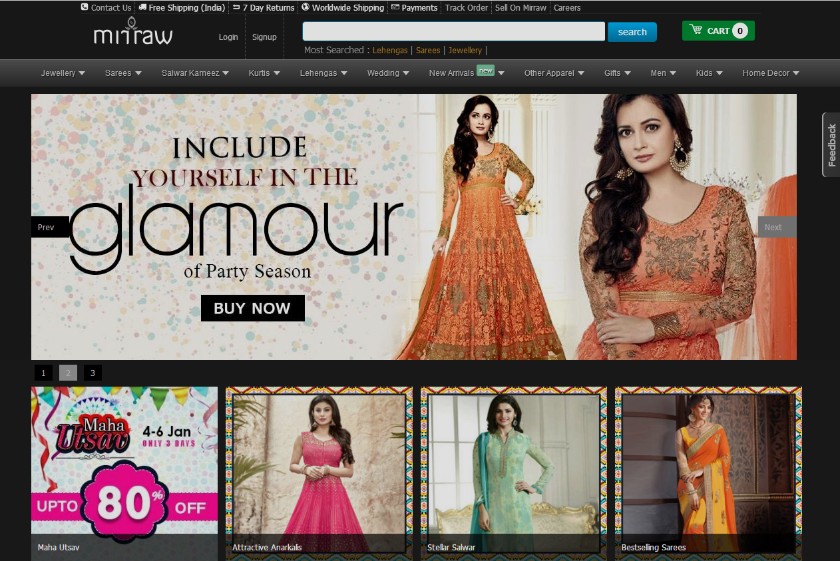 Mirraw mostly specializes in ethnic apparel, jewelry, and accessories for both everyday wear as well as special occasions, like weddings. Some of their most popular clothing items include:
Traditional sarees
Salwar Kameez
Kurtis
Lehengas
Skirts
Blouses And more
And accessories like:
Necklaces
Earrings
Bridal Jewellery
Bags
Blouses
Lingerie
Footwear And more
They also offer select gift and home décor items, as well as clothing for men and children.
What sets Mirraw apart from other online Indian retailers is their eye for handpicking inspired items that beautifully combine traditional ethnic designs with the high quality that only modern insights have uncovered. If you are in search of a truly eye-catching outfit, shopping Mirraw's colorful fabrics and fun patterns will offer you a wide range of stunning clothing choices to choose from.
As more and more retailers continue to adopt western clothing trends, Mirraw reminds us of the beauty of traditional ethnic wear. Their handpicked selections is a testament to the unique and inspiring effect of show-stopping patterns, bright colors, and lavish fabrics. Whether you are shopping for a formal occasion, or simply everyday wear, Mirraw is a great place to look for clothing that will stand out and proudly reflect your heritage.
Traditional Ethnic Style with Modern Saving Innovations
Online shopping is a convenient way to browse through all of the clothing that you love, and compare designs in order to find the perfect outfit for you. But when you do find the perfect kurtis or salwar, you don't want the price to keep you from buying it. To help eliminate this dilemma, at Zifup we strive to be a portal to save you money on whatever products you may need. Our Mirraw coupons are no exception, as we are constantly updating our vouchers in order to bring you the latest savings on these beautiful ethnic clothing collections.
Using online coupons is truly the smartest way to shop, as you can purchase all your favorite high-quality products at a fraction of the retail cost. At Zifup, discounts often range from special prices to exclusive offers, money-saving discounts and more. In addition, because we regularly update our coupons it is a good idea to check back often if you do not find a voucher that works for your shopping needs. Some of our coupons may be exclusive to specific products, while others may be applied to any Mirraw purchase.
All of our coupons are free to use and can be redeemed with a few easy clicks. In order to start taking advantage of our outstanding savings, simply select the "click to use this coupon" button, and enjoy our money-saving deals today!
Recent Comments
Customer Comments