hostgator
Found 1 coupon to get discounts on hostgator
More Info About hostgator Coupons, Vouchers and Deals
Webhosting that works for you
In today's ever-growing online world, nearly every organization, business, or web-based personality needs a website. In the past, where social media profiles and blogs may have been enough, it now only seems appropriate for official entities to have actual domains registered in their name. More and more, people are relying on modern conveniences that are available through websites and personal pages designed from the ground up. Whether it be online shopping, downloading software, or just catching up on the latest in entertainment, everyone seems to be relying on personal websites and services that sellers offer on their own. If you're interested in maximizing usability and profits from your services, you need HostGator.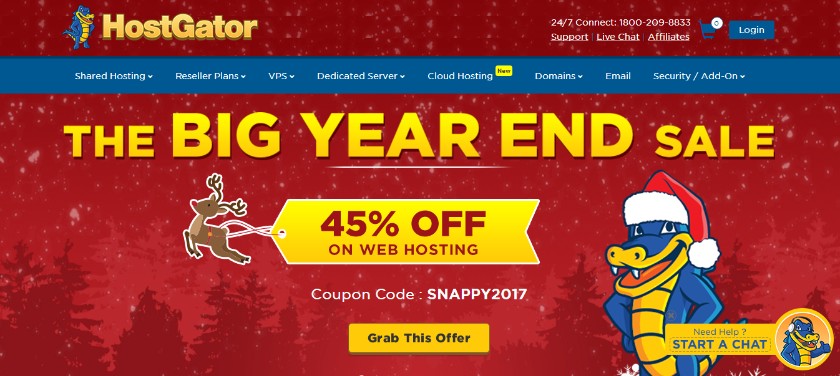 A new type of savings
Odds are, if you're the driving force between any organized group or business, you've considered website creation applications in the past. Although some people may try to get buy using template-based designs from advertisement-heavy services, there's a long list of pitfalls that a site could befall in these situations. Most serious entrepreneurs or organizers are adopting web-hosting services akin to HostGator. HostGator guarantees uptime for your site, a 45-day money back guarantee, and flexible technical support 24/7/365 to keep your site looking organized and running smoothly for every one of your guests.
HostGator coupons from Zifup
Thanks to our intricate partnership with HostGator.com, we're able to offer a large library of vouchers and promotions on deals that already save you the most money in web-hosting. Just a few of the deals and coupons we'll offer include 30% off cloud hosting, a .com/.net domain plus business email account for just ₹599/month, and up to 20% off on all web hosting. Whether you want to upgrade your current site or build something from the ground up, Zifup is sure to have a promotion with HostGator that works just right for you.
Saving with benefits
Here at Zifup, we take great pride in the exclusive deals and promotions that we're able to orchestrate with our affiliates. HostGator specializes in saving small startups or individuals money on services that every organization needs. Approved and endorsed by some of the most reputable organizations in the web-hosting business, some of their validations include:
Hosting Advice
FindMyHost.com Editor's Choice
100 Best Web Hosting Company
Already Host
PCMag.com
Best Free Website Transfer Service
There's no need to be concerned with the legitimacy of HostGator's services. Experts in a wide variety of fields have reviewed them and found that they continually exceed expectations.
A store of coupons
As the number of online shoppers, or folks online seeking local services, increases, so will the number of readily available websites hoping to provide such services. Don't allow yourself to be swept away by competition, stand out above the rest. By using HostGator's services and our special deals and promotions at Zifup.com, you can ensure the highest quality of web development and maintenance for the website that tells your story. For the most updated and recent deals available in web-hosting, check out our deals page daily.
Recent Comments
Customer Comments