gamestheshop
Found 1 coupon to get discounts on gamestheshop
More Info About gamestheshop Coupons, Vouchers and Deals
Gamers Get Ready: Save with GamesTheShop Coupons
Cause a riot and drive a stolen car in Grand Theft Auto V. Leap off building rooftops and sneak in for the deadly kill on Assassin's Creed IV: Black Flag. Hurl your opponent across the ring in Road to Wrestlemania W2K17. Play these games and much more for an affordable price with GamesTheShop coupons.
How Do I Game and Save?
Saving and gaming can go together with GamesTheShop coupons. Right now, we have a coupon for 20% off all purchases and vouchers for discounted PS3 and PS4 games. Just click on the gaming coupon that's right for you and your console, and you'll be taken to the Games the Shop site. The discount will be applied at checkout.
GamesTheShop, Your Stop for Games, Consoles, and Accessories
With an extensive online inventory of consoles, game software, and gaming accessories, and several stores in Mumbai and other parts of India, Games the Shop is a leading retailer for all your gaming needs.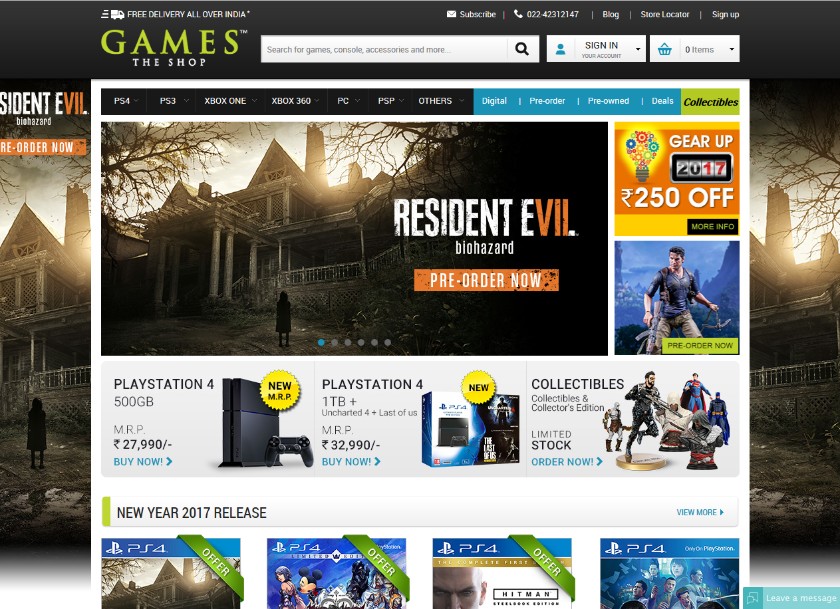 Wall-to-Wall Consoles
They have a huge selection of consoles for gamers of any type, from those who like the most up-to-date technology for online first-person shooters to the gamers who like user interface games. Current consoles include:
XBOX One
XBOX 360
PS4
PS3
PSP
PS2
PS Vita
Wii
Wii U
Nintendo DS
Nintendo 3DS
Gaming Eyewear
Games and Software for All Consoles and PCs
From first-person shooter games to games with story mode, Games the Shop has the widest selection of games and software.
For Playstation consoles, such as PS4 and PS3, top-rated games are Assassins Creed IV: Black Flag, Call of Duty Black Ops III, Watch Dogs 2, Mafia III, Tomb Raider: Definitive Edition and W2K17.
Popular games for XBOX One and 360 include Grand Theft Auto V, Batman: Arkham Knight, The Evil Within, and Mortal Kombat X.
Games for PCs include the assassination game Hitman, Splinter Cell Blacklist, Assassins's Creed: Liberation (HD), and Grand Theft Auto III.
Gamer's Accessories
Get your gaming gear together, so that you can maximize game-time and comfort to compete for the international circuits. The ORB Controller thumb grips allow you to keep a steady grip for games that require instant reflex. The DualShock 4 wireless controller lets you keep your gaming spacing neat and cord free. ORB GP3 gaming headsets have great headphone and mic quality, so you can communicate to your team in online battles. Other accessories include gaming eyewear to protect your vision against the bright glare of the television or PC monitor.
Collectibles
Games the Shop also has a cool collection of action figures, wallets, and calendars because gaming is not just an activity—it's a lifestyle. Invest in collectible action figures and put up a Batman or Amazing Spider-Man calendar on your walls to fully immerse yourself in the world of gaming.
Virtual Reality, Real Savings
In addition to GamesTheShop coupons for all your gaming needs, we can find you vouchers for men's and women's apparel, mobile recharge services, technology, cars and motorbikes and more. Check out what else you can save on today!
Recent Comments
Customer Comments