GadgetStuff
Found 1 coupon to get discounts on GadgetStuff
More Info About GadgetStuff Coupons, Vouchers and Deals
Getting Geared up to Save with Coupons
We live in an age of gadgets that allow people to do some pretty awesome stuff. Selfie sticks that let you get a photo of you and all of your friends in one shot. Projection laser keyboards that mean you can set up your personal mobile office space anytime, on-the-go. Lenses that transform your mobile phone into a professional photography and videography device. There's no doubt about it, this is the age of gadgets, and the possibilities are endless. Now with the Gadgetstuff coupons, you can get your virtual hands on many of these gadgets for an affordable price.
How Do I Get the Gadgets and the Discounts?
To find vouchers for anything, and we mean literally anything, just search Zifup for the category. We'll pull up all the coupons available for, say, Gadgetstuff coupons. Right now we have excellent offers available including a voucher for free shipping (great for heavier items like the mini foot pump for ANY vehicle tire). From there, you can select the coupon and shop through the retailer's website, and the discount will be applied at checkout.
Gotta Have It Gadgets
Gadgetstuff.in offers a wide selection of gadget-related stuff. With gadgets for the aspiring photographers and videographers, in addition to cool accessories for motorcyclists, the company has a treasure chest full of innovative technology.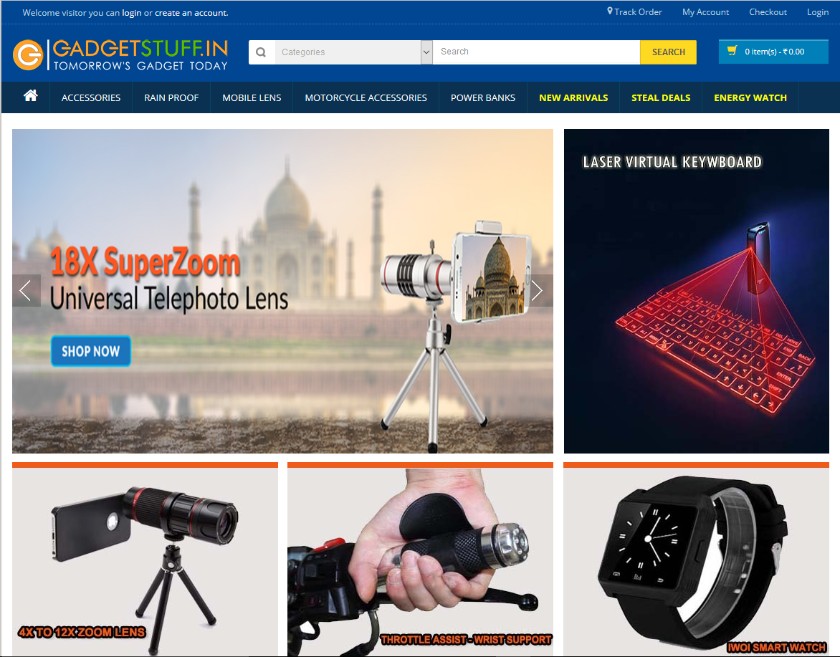 From 12x zoom telescopes to gaze at the stars, to an 18x zoom universal telephoto lens for the most intense nature photography, to an 8x zoom lens to go from mobile to professional, the Gadgetstuff offers all the equipment you need to start a burgeoning career in videography or digital photography. For mobile photo set-up, there are also options for mobile tripods and adapter mounts.
Gadgets for mobile and wireless are so many we can't even list them all! Mobile accessories include the ever-handy selfie-stick, portable and wireless Bluetooth speakers, and twisty mobile holders. For the computer and laptop accessories, there are virtual projection laser keyboards and wireless card reader flash drives. This is only a small sample of the exciting gadgets they have available.
For the mobilized and motorized, Gadgetstuff.in offers a throttle assist wrist support, an easy-to-carry Tyre repair kit, a motorcycle mobile mount, and other gadget stuff. Motorcycle accessories for the mobile rider make your ride even sleeker.
Anyone who frequently needs to power-up on the go will be excited by the variety of power banks this site can offer. From solar-charged power banks to the IHAVE Delta Series 24000MAH, which can charge up to 1 tablet and 2 phones at the same time, power banks can make sure you can stay charged anytime and anywhere.
All this awesome techie gear is available from Gadgetstuff.in, and with our coupons, you can stay up-to-date with all your gadget needs while saving money.
Go, Go Gadgetstuff and More
At Zifup, we care about finding you the most discounts possible. From our Gadgetstuff coupons to coupons for men's and women's apparel, kids fashion, mobile recharge, and even cars, we are committed to bringing you quality and savings in one place.
Recent Comments
Customer Comments