FabFurnish
Found 1 coupon to get discounts on FabFurnish
More Info About FabFurnish Coupons, Vouchers and Deals
Store Summary:
Fabfurnish.com is an E-commerce portal for Furniture and Home decor products. It was launched in March 2012 by Vikram Chopra, Mehul Agrawal, and Vaibhav Aggarwal. Heaven and Home were merged with them in June 2012 for home décor. When they started, they just had 2000 product inventory now reaching to a catalog of over 1,00,000 plus furniture products and Daily Home need appliances. It is not just a retailer but is an online marketplace as well where sellers can register themselves for selling their Furniture and Home Decor products. It is also known for its customer service and provides easy assembling and installation of furniture items at your place. All of the products housed by them are on par with international quality standards. They offer almost every product coming across "Home Furniture and Appliance" category from reasonable to premium ranges.
Starting from its home appliances or classy artifacts, elegant sofas, beds, dining sets, kitchen essentials to garden accessories you can shop everything for your Home. Fabfurnish is now a part of Future Group headed by Business tycoon Mr.Kishore Biyani famously known for establishing the Big Bazaar chain.
Fabfurnish initially launched a franchise store in Gurgaon in Dec 2012. It now has 3 more stores in Bangalore and Faridabad. An Android app for mobile users was launched in October 2014. Fabone, a specialized service giving its customers free expert assembly, open delivery, on-the-spot product demos and accurate package tracking was launched in March 2015. Cities under Fabone service boundaries as of now are Delhi, Gurgaon, Noida, Faridabad, Mumbai, Pune and Bengaluru.
By 2014, expanding its operations and for covering the business supply needs, they established 6 Distribution Centre's located in Delhi-NCR, Jodhpur,Mumbai, Bangalore. To deliver their products as fast as possible,they also built 8 fulfillment houses in Mumbai, Delhi and other Major cities across India by then.
Offers:
Fabfurnish does accept coupon codes. It doles out a lot of offers and discounts with these promotional vouchers. You can check the latest updated coupon codes on our website Zifup.com here. Below we have listed some of the offers that has been rolled out in the past.
Raksha Bandhan Sale- Flat 50% Off + Extra 25% Off.
Summer Siezzzta - Up to 70% Off + Extra 20% Off.
Diwali Home Makeover Sale.
Weekend Rush Sale 40%-70% Off.
Friendship Day Sale - Up to 75%+ Extra 25% Off.
Big Furniture Sale - Up to 70% Off and so on.
You will find offers or coupon codes currently running on, directly on the top banner strip of the website. Also, it has "SALE" tab in the product menu which has all the latest deals and discounts running on an individual product or the whole category. It also keeps on rolling offers along with collaboration with various banks such as HDFC, ICICI, SBI, KOTAK, Citi bank etc. We have seen good discounts listed in these Bank offers.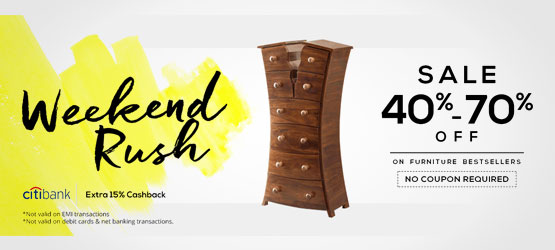 Product Categories:
New
Fab-Designs
Furniture
Solid Wood
Bed & Bath
Décor
Kitchen & Dining
Appliances
Lighting
More
Sale
Blog
All these categories host products such as Furniture, Bed & Bath, Decor, Kitchen,Sofas & Sectionals,kitchenware, kitchen & dining accessories, kitchen utensils,home furniture,home decor etc. They have Products from top brands like Hometown,Swayam, @home by Nilkamal, Cortina, EVOK, Bombay Dyeing, In Houz, Corelle, Asian Arts etc. They also host products exclusively from international brands such as Lodge, Stoelze, Noritake and more.In House brands of this furniture portal are Fab Home, KingSelect, Elmwood, Blossoms & Rocca. The have an Inventory of total 900+ Brands.
You can also create a list of your favorite furniture, appliance items and adds them to your "Wish List" wherein you can purchase them afterward whenever you have the budget for ;). You can search for your favorite brands as well by typing in the brand name in search bar which is on top of the homepage page or clicking on "ALL Brands" option listed on the bottom of the page under Top Brands Tab. Alternatively, you can visit Franchise stores as well to check the items on a real-time basis.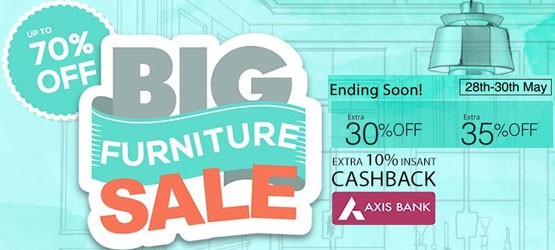 Payments Method Accepted:
All possible methods in regards to payment are accepted, as in , Netbanking from all the major Indian Banks such as ICICI, HDFC, IDBI, SBI etc. Cash on Delivery, EMI on credit cards are also accepted. Partial Payments of purchased items are accepted too.
Cancellation/Exchange/Returns Policy:
For any Issues with your product, cancellation of an order or return of a product, you can seek help on the below-listed numbers and email.
Customer Care:
Vendor (Sellers) helpline:
Vendors interested in listing on furniture marketplace: [email protected]
Cancellation Policy:
Cancellation of order is not possible in case of Furniture/Lighting/Mattress. You have to speak to customer care first and then a resolution will be worked out accordingly. "Part Payment" on orders of Furniture/Lighting /Mattress categories are not refunded and the amount you have paid will be relinquished in lieu of cancellation charges.
For categories other than furniture/Lighting/Mattress cancellation is feasible until the pre-shipping stage and not once the product is "Shipped".
Returns:
You have to speak to customer care of before returning any product. If you return any products without having a conversation with the customer care team, It will be returned back to you and you will not get any refund/replacement of the product.
When a product is concluded to be "Returned" after talks with customer care, representatives from Fabfurnish will pick up the products without any charges from your place. This service is available in selected areas. For scenarios wherein the reverse pick up facility isn't available, Customer needs to ship the item back and the shipping cost will be reimbursed to 10% of actual price/selling price of the product. This Shipping cost reimbursement is in the form of a gift voucher which is redeemable on website itself within 30 Days. You also need to keep in Mind that when shipping a product from your end to Fabfurnish on your cost, the shipment is sent via logistics operator who provides tracking details of the shipment. This is to ensure that product reaches safely and also tracked by them to check the status and position of shipment. You need to send an email to [email protected] with your order details and tracking ID.
Returned product should not bear signs of usage or intentional damage by the customer and should have untampered serial number labeled on the product which is stuck on every product shipped.
Damaged / Defective Products:
Damaged or defective products from the category of Furniture/ Lighting/Mattress are accepted as Fabfurnish wants its customers to have 100% satisfaction and peace of mind along with quality assurance. You need to inform them within 48 Hours of delivery of product so that a replacement order is placed for you.
When a shipment arrives at a customer's place in a damaged state or if you feel the shipment has been opened, It is advised its customers "Not to Accept" such package and inform customer care immediately. They will refund or replace the product as per your preference and availability of the product.
Same goes for the products that come in with missing parts/accessories/defects. In such cases inform the customer service team within 48 hours of delivery of the product and replacement will be sent ASAP.
A lot of products come in with and additional warranty offered by Manufacturer. After using these products which carry manufacturer's warranty, you come across any manufacturing defect or quality issues, then you need to contact the manufacturer helpline directly along with the warranty document. In case you are not able to reach the manufacturer of the product, you can call the customer care and they will provide you a resolution by contacting the manufacturer directly.
Refunds:
Refunds are processed within 7 days of receiving the returned product. This time, frame does not include the time taken/delay by banks card issuers. Refunds are issued to the mode of payment that customer chose at the time of payment for the product. So for eg:If the customer paid via net banking, the refund amount will be sent to his/her bank account directly.
For scenarios where a customer has made a cash payment (COD Orders), refunds will be issued via home delivered account payee cheque on customer's name which is on the bill or via NEFT to customer's bank account.
When your purchase does not contain items from furniture/lighting category, cancellation policy applies and a fractional refund is given to you. By fractional refund we mean you get 30% of the product value as a refund.
Delivery Times:
You get a free delivery on all the items all over India. However for certain items, a minuscule amount of shipping charge applies. We have listed them for you in the below table as mentioned on theri website.
| | |
| --- | --- |
| Price Range | Shipping Charges |
| For Products less than Rs. 500/- | Rs.49/- |
| For Products between Rs. 500/- and Rs. 2,500/- | Rs.99/- |
| For Products between Rs. 2,500/- and Rs. 10,000/- | Rs.249/- |
| For Products between Rs. 10,000/- and Rs. 25,000/- | Rs.499/- |
| For Products greater than Rs. 25,000/- | Rs.999/- |
Any purchase that you do is processed within a maximum time frame of 24 Hours and usually shipped within 15days once the order is confirmed.
It's completely understandable that the delivery times will be bit longer than any other product you purchase normally. Needless to mention that usually the furniture Items are heavy and huge in size. Transport of furniture items requires a lot of care during handling and shipping process. Every product has delivery time mentioned, depending on the area you are getting the product delivered. If any item has shipping charge applicable then it will be clearly mentioned on the product page.
In case you miss out the delivery of your product due to some reason, the delivery partner will leave a "Note" notifying you of alternate pickup or delivery arrangement.
Any product that you order comes in with tracking details. This contains the information about Logistics partner who will deliver you product and track ID of the products. The status of your order is updated to you with email at every step, right from order confirmation to packaging to the warehouse delivery and so on. If you do not receive updates in regards to same, then you must inform the customer care on +91 124 6733300 (10 AM - 7 PM) or email to [email protected] on urgent basis
For miscellaneous reasons if the Delivery partner is unable to deliver an item to your place, in that case, your order may be cancelled and a refund 100% will be given. But you will be informed prior to cancellation of order and details will be discussed with you.
Documents required for Purchase:
Well, no documents are required for doing a purchase. However if you ordering a product in State of Madhya Pradesh or Kerala you will need to submit an ID proof. Laws of the aforesaid state do not permit the transit and delivery of items on the road without authenticating the ID proof.
You just need to email the scanned copy of your valid Govt. photo Ids like PAN Card, Voter ID, Adhar card, etc. to [email protected] with a subject line as "Photo ID" to and rest of the formalities will be taken care off by their logistics team and shipping Partners.
Conclusion:
Huge collection of beautiful and designer Home Decor Items,Home accessories, Furniture and appliances, Excellent customer service, Franchisee stores where you can walk in and check the Furniture items yourself, FabOne service which is an In-house Logistics arm which gives customer a live demo with assembling and installation of furniture item(Selected Cities) plus delivers the item to a customer's House, Fabfurnish is indeed climbing the stairs upwards to the point of becoming as the most successful online marketplace in the home needs category.

Recent Comments
Customer Comments