ebags
Found 5 coupons to get discounts on ebags
More Info About ebags Coupons, Vouchers and Deals
Save With eBags
EBags is the #1 bag retailer in the U.S.; selling the best luggage and travel brands, and offering the best travel steals. Ran by five passionate guys, with more than 50 years of combined experience in the luggage category and a hint of some native Colorado pride, eBags has sold over 25 million bags. These founding five explored the planet with the world's best travel brands. With a vision of being 100% devoted to maintaining customers' momentum, eBags has built a widespread plethora of brands to help build a special group of loyal customers.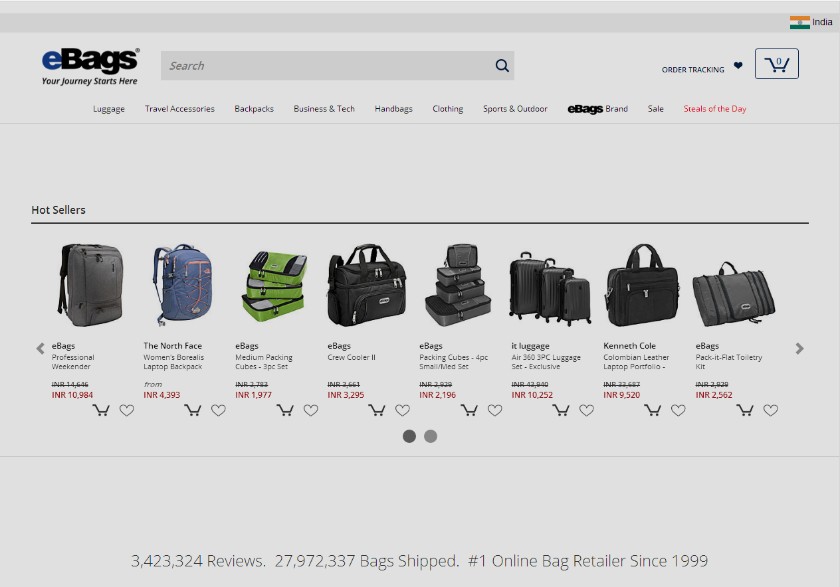 EBags is unlike any other travel site, providing their choice of the best travel gear through the adventures of experienced travel-gurus. They offer never-seen-before deals on top-notch luggage companies that are made from the highest quality. At eBags they offer anything travel from brands listed A to Z, but giving you the best deal at the same time. Travel gear can be expensive; another quality eBags brings to the table of why they are the #1 bag retailer.
Save Big on High-Quality Travel Gear
Ahoy there travelers! Zifup brings to you the best travel gear company to offer travelers to save big on items that will last the full journey. Travelers waste money every year on travel gear that isn't durable enough. Therefore, you should choose eBags to be your traveling gear provider; they will provide travel gear that is worth every penny, and never for full price! By using this coupon, you will save on popular brands like:
Delsey
eBags
it Luggage
Kenneth Cole Reaction
Rockland Luggage
SwissGear Travel Gear
Traveler's Choice
Verdi
Travelpro
London Fog
Nautica
Zifup guarantees great savings from eBags deals high-quality brands with coupons.
Your Saving Options
When you use your discount codes you can save on eBags best merchandise, and a variety of the best travel companies. Their travel gear includes luggage, travel accessories, backpacks, business and tech, handbags, clothing, sports and outdoors, and a hot sale section. You will be glad to pick from the never seen before cheapest prices of high-end brands as well. EBags offers cheap prices on high-end brand accessories like Kate Spade, Michael Kors, Fossil, Vera Bradley, U.S. Polo Association and much more. Before you save, you can learn through eBag's Buying Guides. Travelers will find useful tips and advice about bags, luggage, accessories and more. From business travel, to safe travel, great spontaneous trips, and travel pillows, eBag's has a guide just for your journey.
Start Your Journey Right with Zifup!
Through coupons travelers can save on a spectacular variety of travel gear on www.eBags.com. EBags promises customers high quality and top rated travel gear for the best prices for any kind of travel. Using their four visions, Bold, Driven, Owners, and Together, eBags has proven to be the #1 luggage retailer in the U.S. Don't start your journey visiting this page, and you won't regret it!
Recent Comments
Customer Comments