Easyday
Found 1 coupon to get discounts on Easyday
More Info About Easyday Coupons, Vouchers and Deals
Store Summary
Easyday is an Indian retail chain of convenience stores and supermarkets. It currently has over 500 stores across the country with each location having everything for your food and grocery needs.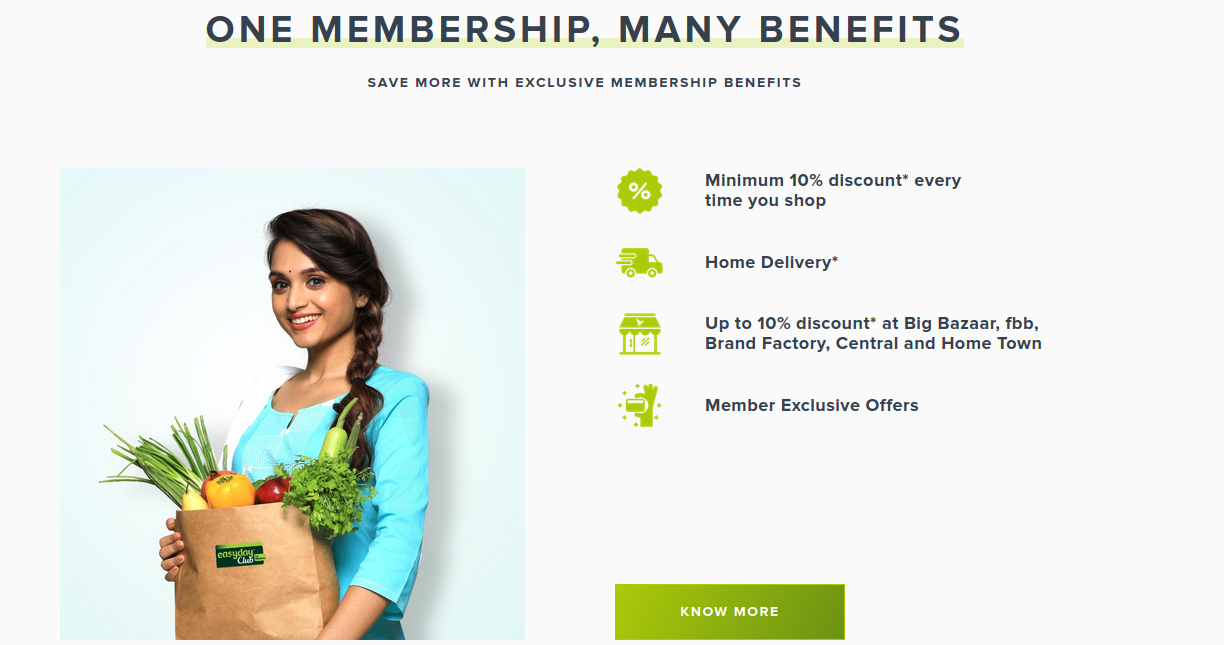 Easyday is a favourite among customers largely because of Easyday Club. The membership gives customers many perks including:
Discounts of at least 10% every time you shop
The option to shop online and have your groceries delivered right to your door
Up to 10% off on your purchases from BigBazaar, Hometown, Central, and other Future Group stores
Product Categories
As we mentioned, Easyday has everything your family needs when it comes to groceries (including fresh fruits and veggies). The store carries most major brands in addition to cheaper generic items.
Easyday sells memberships to customers for a low annual fee. The membership gives you discounts on both Easyday and other Future Group Stores.
And, with the membership, you can shop from the comfort of your home. Simply choose the products you want using WhatsApp or Easyday's app/website. Your groceries will promptly arrive on the same day.
Offers
Right now, we are offering you a ₹750 cashback offer. (Valid only on products listed on the landing page.) Since you basically get paid to shop, you can't go wrong with this!
We also have an offer where you can become an Easyday Club member for only ₹999 per year. And, if you are a member, we have an additional ₹1000 offer for you.
Don't let these amazing offers slip through the cracks. Claim them and start shopping now!
Why Use Promotional Coupons?
Easyday is great as it is already an affordable grocery chain. These coupons make their products even more accessible! So, if you want to save money on groceries for your family, these coupons are for you.
And, if you get the membership, you'll have access to even more discounts. You'll save money on stores including:
BigBazaar. When members shop at BigBazaar, they can get up to 3% off food and personal care items. They will also save up to 10% on household items and general merchandise (kitchen utensils, toys, luggage, decor, etc.).
Hometown. You'll save up to 10% off of Hometown's furniture and home improvement products.
Central. You'll get up to 10% discounts on all brands of clothing for men, women, and children. You'll even save on footwear!
This is only scratching the surface. As a member, you'll save at many more Future Group stores.
Shop More with Zifup.com
Make the most out of Easyday's convenient, modern shopping experience with our coupons! They're super simple to use and will drastically reduce your grocery bill. And, if you get a membership, you'll end up saving big at other stores as well.
Like our Easyday offers? You'll love our other coupons! Browse our website for more deals on the brands you regularly use.
Recent Comments
Customer Comments