Shopping online for clothing for the whole family can become a hassle if you don't know where to look. The best online retailers offer a wide range of fashionable products at affordable prices. One of the places where one can find really interesting deals is Myntra.
Myntra is a big Indian e-commerce website selling all sorts of assortment, from t-shirts, dresses, watches, and shoes to products for home and cosmetics. The company was founded in 2007, and initially, it was a shopping website for personalized gifts. Now it's one of the biggest online retailers in India, with thousands of products for the whole family.
Shopping with Myntra can save you much time and trouble, as the range of merchandise they offer is extensive. Apart from that, you can also save time and money by familiarizing yourself with our Buyer's Guide on how to shop with Myntra. Here's what you need to know!
How to Shop with Myntra
Set Up an Account
The best way to start shopping with Myntra is to do so via a personal account on their website. This way, you have easy access to track your orders, and you can save up money with attractive Myntra coupons.
To create an account, head to the Myntra website https://www.myntra.com/. Click on the Profile section in the top right corner and choose the Signup option. There are three different ways to create an account.
First, you can do so via your Facebook account. The second option is to set up an account via your Google profile. The third way is to create an account directly on Myntra.
To create your profile, you'll have to fill in your email address, make up a password, enter your phone number and select your gender. Then you click the Register button and verify your account through the email address you entered.
You will receive a message with a confirmation link to your email address. To activate your account, you will need to click on the link. Once the verification process is complete, you can start your carefree shopping.
Browse and Buy
There are at least two ways to browse and look for products on the Myntra site. The most intuitive strategy is to browse through specific categories. For example, if you're looking for a formal dress, you can locate it by clicking on the Women section and selecting Dresses. You'll be transferred to a category page where you can find many dresses to choose from.
Another method of finding products is entering the name of a category (for example, "Swimsuit") or a brand in the search bar at the top of a page. The upside to this strategy is that when you enter the first few letters of a product you're looking for, you will see some suggestions below on what categories you can browse through in order to find the product you're interested in.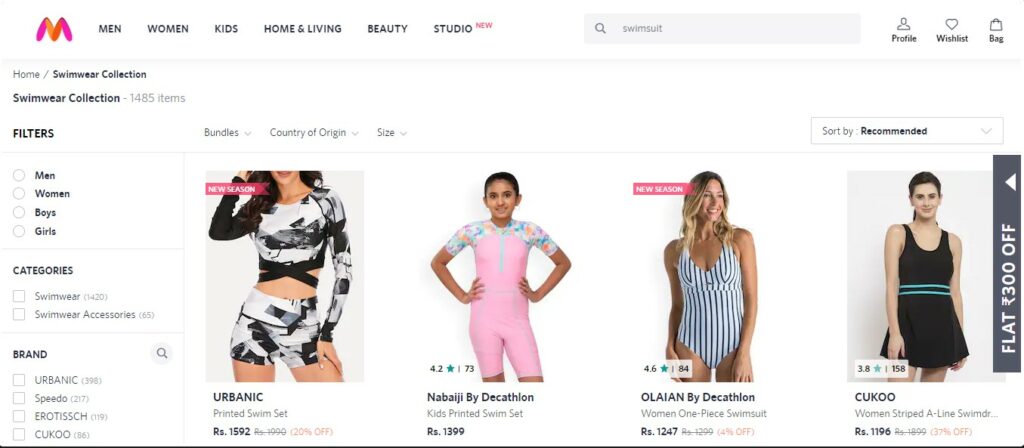 Once you find a product that suits your needs, you can click on it to access more details, like delivery options, fabric information, available sizes, and clients' ratings. This can help you make an informed decision about the purchase.
To add a product to your cart, select the correct size and click on the Add to Bag button. If you're not ready to make a purchase yet, you can add a product to your wishlist and buy it at a more convenient time.
When a product is in your bag, you can either place an order or continue shopping until you're ready to make a purchase.
Place Your Order
The last stage of shopping with Myntra is done at the register. To place an order, click on the Bag in the right-hand corner of the screen. You'll be transferred to a page with the summary of your order. This is the stage when you have a chance to verify your cart and accept the purchase.
Before you do so, you may benefit from including Myntra coupons in your order. Zifup offers many attractive Myntra deals, which can help you save tons of money when shopping in the store. Get the freshest Myntra discount codes at Zifup by copying coupon codes from our website! Then enter your code to your purchase by Clicking on the Apply Coupon button and enjoy the savings!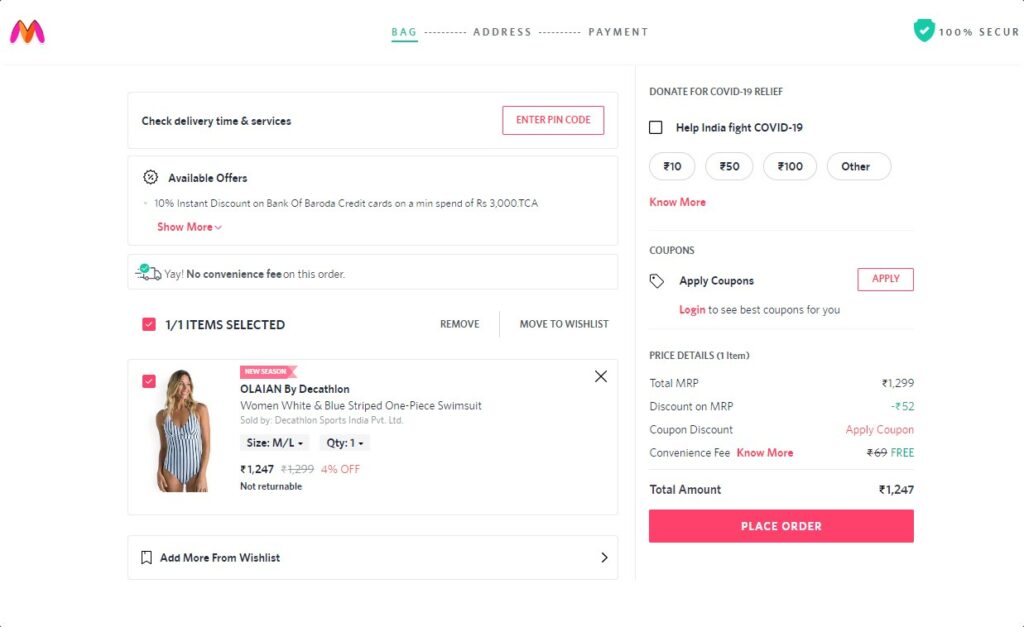 Once that is done, you can click on the Place Order button, which will allow you to select the payment option. You can choose from different payment methods like cash on delivery, credit/debit card, or internet banking.
To finalize the purchase, confirm your order on the website. You will receive all the important information (like delivery time and summary of the order) to your email address and via text message.
You can conveniently track your shipment on your Myntra profile or by using the link attached to the summary of the order you have received in your email and text.
Now, all there is to do is to wait for your order to arrive!
Why Is Myntra a Good Place to Shop?
The most significant reasons why many buyers choose to shop with Myntra are
Big variety of products. A vast number of different clothing in various sizes, cuts, and color options. Shoes, accessories, and jewelry are also available to buy through the site.
No intermediaries. Myntra is an e-commerce website with no physical stores, selling clothing directly from manufacturers. This results in lower prices.
Attractive deals. This website is known for its low prices and many discount codes that help customers save even more!
Buy for Less
Use our Myntra coupons and enjoy every purchase at lower prices! Zifup constantly updates its codes, so you know you're always getting the best deals. Check our website for more promo codes for your favorite stores. You will find coupons for Amazon, AliExpress, Shein, Booking.com, and many, many more!
Get ready for summer, fall, winter, and spring with the best products from Myntra!