Save On Groceries with Grofers Coupons
A grocery store that shows up on doorsteps? Welcome to the 21st Century! Grofers is a local mobile e-commerce platform that connects shoppers to local stores. Users can order through the app and everything is delivered directly to their doorstep immediately. It offers a large assortment of groceries for all users' daily needs, fruits and vegetables, electronics, cosmetics, flowers, bakery items, and much more.
It sells the freshest food on the market, promising customers gourmet products. Unlike other e-commerce platforms, that don't fully value the importance of quality food and products, Grofers will only deliver their most groceries making sure buyers get the best out of their purchase. It is a trusted service because they are a fast growing company gaining the popularity of many cities. They have a reputation for being a trusted service getting all deliveries at buyer's doorsteps within hours. Not only are they offering a convenient service that saves time, but also saves money with their best prices and offers.
Make Grocery Shopping Simpler and Cheaper with Zifup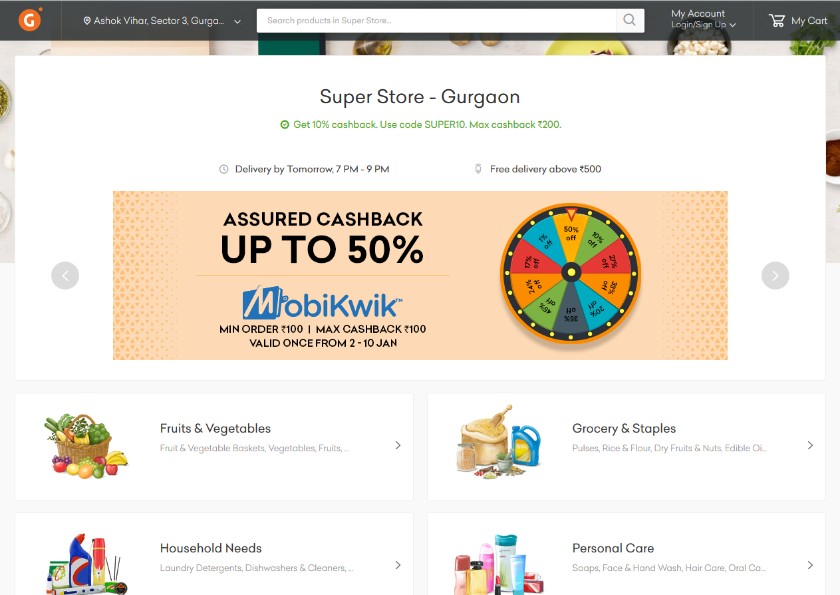 We gladly present even more savings with coupons to affordably and conveniently order groceries with Grofers! We understand groceries can be expensive and take valuable time out of your day, so with the selection of Grofers coupons through Zifup you can purchase all the groceries you need at a new affordable price. You're just a few easy steps away from saving big! By visiting this page on Zifup' website, it will display all the vouchers available. It's never been easier to save precious time and money!
Everything You Need and More
Over just one year Grofers has grown and learned tremendously, making the customer experience their most important driving factor. Grofers doorstep services deliver the freshest fruits and vegetables, cakes and other bakery items, meats, seafood, cosmetics, mobiles and accessories, electronics, and baby care products. With just a single tap on your mobile device, order thousands of products at your convenience. They are the best and the most reliable grocery service that has exceedingly expanded in just one year. Grofers are the most trusted service because they had one thousand people join the Grofers team in the past six months, it took only 10 days to launch in 18 cities across India and has over 3 million app downloads.
Find your local neighborhood grocery store and save today in following cities:
Delhi
Mumbai
Noida
Pune
Bangalore
Kolkata
Ahmedabad
Chennai
Surat
Chandigarh
Hyderabad
Jaipur
Lucknow
Ludhiana
Vadodara
Kanpur
Agra
Indore
Nagpur
Zifup for Your Time and Money
We take pride in our money saving extravaganza, helping you save on life's necessities that slowly empty out your bank accounts. We only offer the best deals, which is why we have vouchers for grocery stores so you can worry about one less bill to pay. Offering deals with number one companies like Grofers is just a fraction of what we have in store. Discounts from health to apparel, to electronics to medical, whatever it is we can help you save. See what else we have in store today!