findmystay
Found 1 coupon to get discounts on findmystay
More Info About findmystay Coupons, Vouchers and Deals
Find Your Discounts with Find My Stay Coupons!
Imagine your next vacation. Maybe it will be in Mumbai, where you can take a scenic cruise down Marine Drive, or gaze upon the iconic Gateway of India stone arch. Or perhaps you have an interest in visiting the decadent City Palace complex of Jaipur. Or maybe you would prefer to immerse yourself in the fairyland beauty of the waterfalls and rolling hills of Mussoorie. Wherever you end up going, you will need a place to stay, but just because you are going to be on vacation does not mean you must spend excessive amounts of money. With Find My Stay coupons, you can book a five-star hotel in Mumbai, Jaipur, Mussoorie or many other places while saving money in the process!
How do I find my coupons?
Getting discounts through Zifup is incredibly easy. Once you have decided upon the savings you want to search for, such as Find My Stay coupons, our site will pull up all the available coupons so that you can compare and save all one place. Just click on the coupon that is right for you, and you will then be re-directed to the vendor's site. From there, the discounts will be applied at check-out. It doesn't get any easier than that!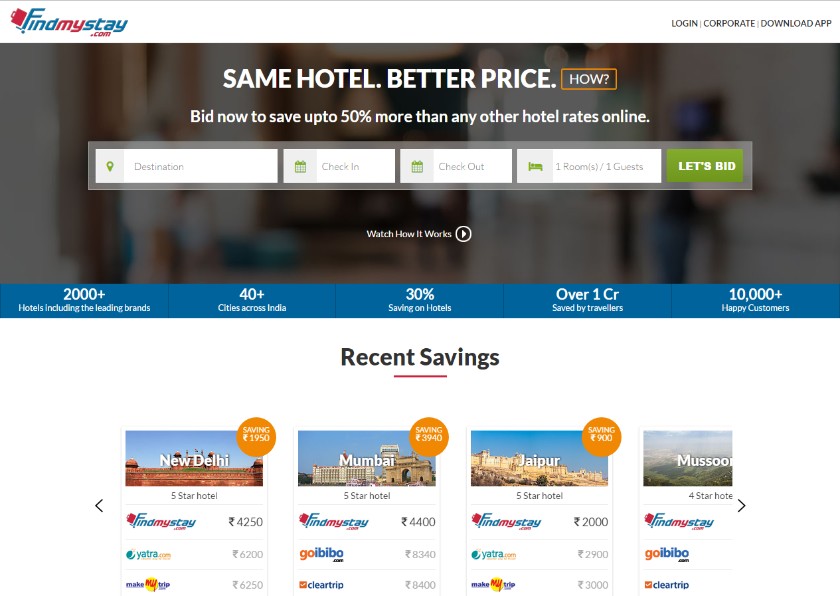 Right now, there are Find My Stay coupons for 50% off and discounts for up to ₹3940 off five-star hotels in Mumbai.
Why are Find My Stay coupons the best deal on the market?
Find My Stay is changing the rules of the game for the travel and hospitality industry. Instead of sitting idle while hotels set exorbitant prices for rooms that would then go unfulfilled, the brains at Find My Stay decided instead to take the bids to the hotels.
Booking a room with Find My Stay is extremely easy:
Select a destination and travel dates
Select suitable locations and star categories (1-5 star hotels available)
Choose the price you want to pay—the team at Find My Stay will then send the bid offer to the hotel, which can choose to accept or decline.
Book any of the hotels that have accepted the price.
Travel, stay, and enjoy!
With a selection of over 2000 hotels in more than 40 cities across India, travelers are certain to find the lodging accommodations that best fit their needs and desires. Find My Stay outranks other competitors when it comes to bringing discounted hotel rooms to the guests. And now with the Find My Stay coupons, you have the chance to find even better savings, often for five-star hotels!
Travel, Sleep, Shop and Save
The discounts available through Zifup go beyond most other vouchers on the market! With our coupons, not only can you book a hotel for a better cost, you can also find discounts for tourist attractions, airfare, luxury vacation amenities like spas and salons, and dine at the best restaurants! You can also find coupons for men's and women's apparel, watches, jewelry, and more so that you can go on vacation dressed like a star!
Recent Comments
Customer Comments